Keynote Speakers
Nuria Espallargas, Norwegian University of Science and Technology, Norway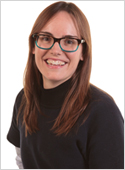 Nuria Espallargas (1979) is a Professor at the Department of Mechanical and Industrial Engineering of NTNU (Trondheim, Norway). She holds a MSc in Chemistry from University of Barcelona (Spain) and a PhD in Metallurgy and Materials Engineering from the same university. Since 2011, she is also the leader of the Gemini Centre "Tribology" at NTNU.
Her research interests are mainly focused on two areas: Surface chemistry and engineering, and Tribology and tribocorrosion. Her main motivation is to perform basic research to understand degradation phenomena that starts on metal surfaces exposed to aggressive chemical environment and find solutions to fight this degradation.
Some specific topics of her research are:
Tribocorrosion mechanisms in coatings and metals.
Multidegradation - the interaction of tribocorrosion with fatigue.
Experimental nano-tribology.
Environmentally Acceptable Lubricants and water lubrication for offshore applications.
Coatings and surface treatments for use in tribocorrosive environments.
Chemistry processes for developing new feedstock materials for thermal spraying.
Talk Title: What is actually tribocorrosion?
« Go Back